Generating Output Documents
The Use Case Editor is capable of generating output documents in a printable form that contain the entire requirements model captured by the tool. These documents can be generated for Microsoft Word, in Adobe PDF format, or as a single, large HTML Web page.
The tool also remembers where you put these output files so that a single toolbar button or a menu selection can open them for viewing. The corresponding menu items are all available under the File menu, and are shown in the screenshot below. Their corresponding toolbar buttons are the buttons with the same icons as appear next to the menu items: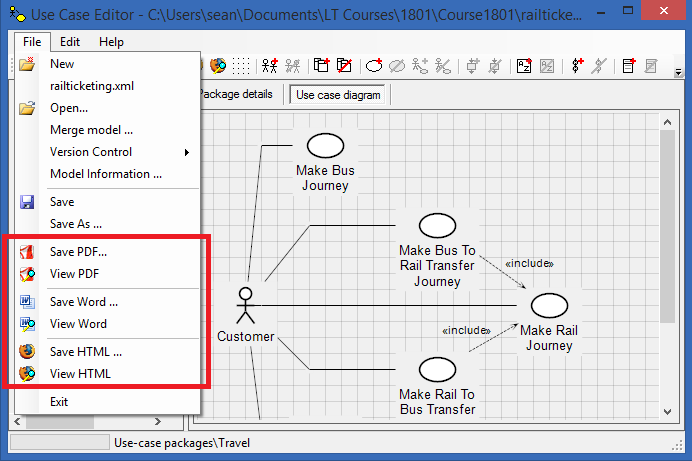 Note that Word output generation can be a bit slow, because Microsoft Word is being automated in the background. Be patient, and an output document of quality will be generated!
Customising Templates
The Word output documents are a little more detailed in what gets generated than the PDF and HTML output model documents. First, they contain a contents section at the beginning of the document. Second, you can specify things like model title, document publication date, author and version so that a cover page can be included. Lastly, the document template used to set things like heading and paragraph styles can be customised to match local templates if you wish. Each of these features is described below.
Setting Cover Page Information
You can set up the information to appear on the cover page of your Word output document. Select File | Model Information … from the main menu and a dialog box appears in which you can provide a title for your model document, the author's name, the date of publication and the version number. All four of these things will be remembered for your model, and used on the cover page as set up in the document template.
Editing the Document Template
There is a prototype empty model document called UCEditor.docx that is installed in the executable folder for the Use Case Editor. This will usually be found under your program files folder, in the folder Ropley IT\Use Case Editor. You can open this prototype document in Microsoft Word and customise its heading and normal styles, as well as customise the page layouts, headers and footers. In particular, the page breaks in the document are associated with the various heading styles, so you can tune these to get the content per page to meet your local requirements.
Do make sure you always leave a UCEditor.docx file in the executable folder, otherwise the Use Case Editor will break on document output.